Unleash Your Inner Strength To Survive & Thrive
September 5, 2020 @ 3:00 pm
PHP2500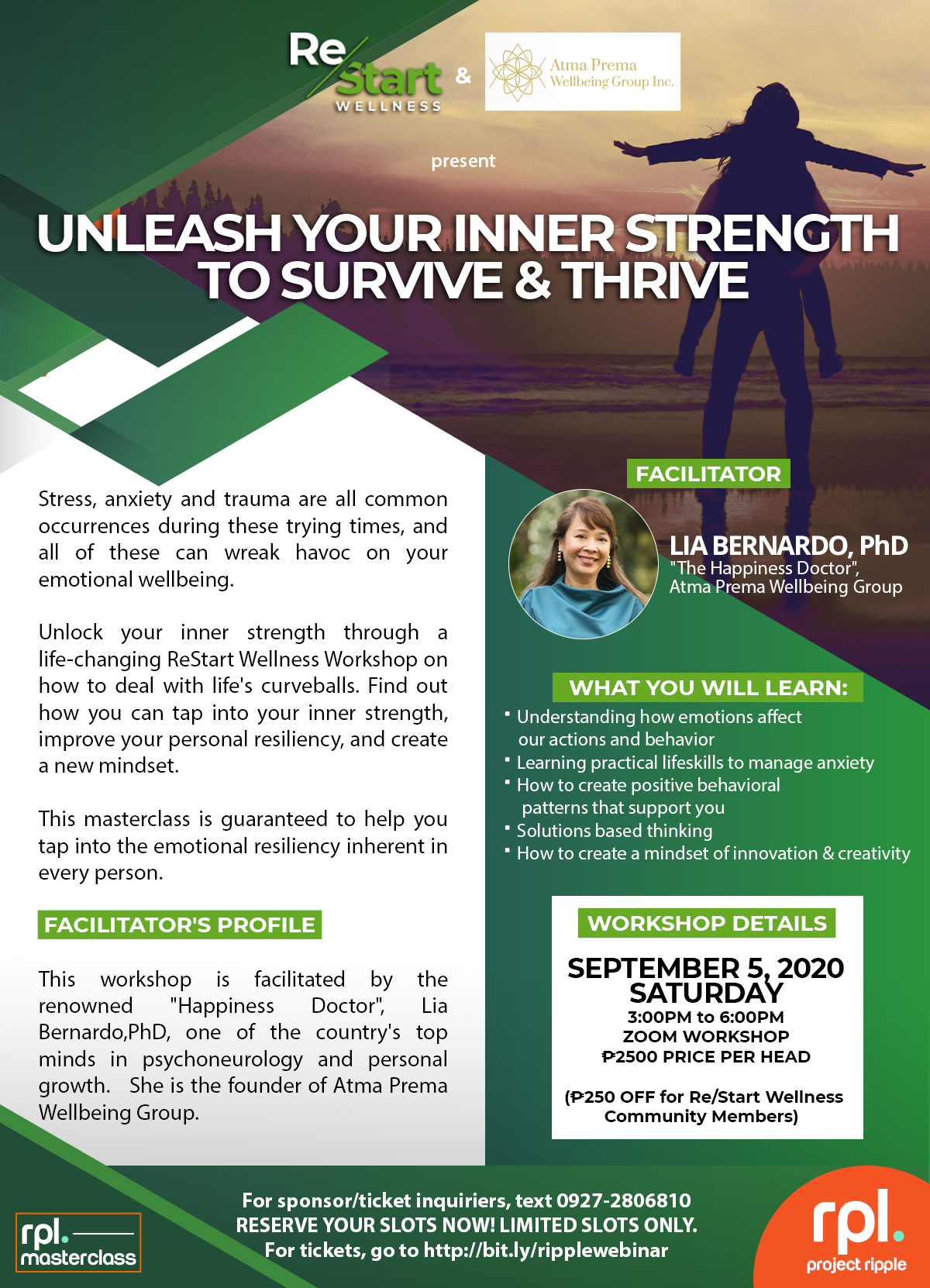 Register Now
Feeling unmotivated and highly stressed?
Anxious and feeling like you just can't breathe?
Experiencing brain fog and can't seem to function?
You have the power to overcome these change your life!
UNLEASH YOUR INNER STRENGTH TO SURVIVE AND THRIVE
Stress, anxiety and trauma are all common occurrences during these trying times, and all of these can wreak havoc on your emotional wellbeing. Unlock your inner strength with our first RPL Masterclass as Atma Prema Wellbeing Group bring you a life-changing Wellness Workshop on how we deal with life's curveballs. Find out how you can tap into your inner strength, improve your personal resiliency and lead yourself to a more emotionally fulfilling life. Take a personal journey that will have you face the anxieties and fears that are present in today's climate.
WHAT YOU WILL LEARN:
Understanding how emotions affect our actions and behavior
Identifying and reversing trauma and limiting beliefs
How to create positive behavioral patterns that support you
Taking care of your own needs first so that you can find solutions in your personal and professional life
Solutions based thinking
Integration into the mindset of innovation and creativity
FACILITATOR'S PROFILE:
This masterclass is being conducted by the renowned "Happiness Doctor", Lia Bernardo, PhD, one of the country's top minds in psychoneurology and personal growth. She is the founder of Atma Prema Wellbeing Group, a global provider of wellbeing and personal development programs. Her advocacy is on emotional wellbeing specializing in the re-creation of behavioral patterns, changing limiting beliefs, and creating positive thought patterns for an empowered state of being.
WORKSHOP DETAILS
September 5, 2020 SATURDAY 3 – 6 PM ZOOM WORKSHOP 2500 Price Per Head (250 OFF for Re/Start Wellness Community Members)
RESERVE YOUR SLOTS NOW! LIMITED SLOTS ONLY.
Members of the Re/Start Wellness community group get Php250 off on the ticket price.
To be a member, CLICK HERE
Please input the discount code during registration. For ticket inquiries, call or text 0927-2806810.
Register Now