Millionaire Mind Intensive PH Seminar (A T. Harv Eker Signature Program)
August 31, 2018 @ 8:00 am

-

September 2, 2018 @ 5:00 pm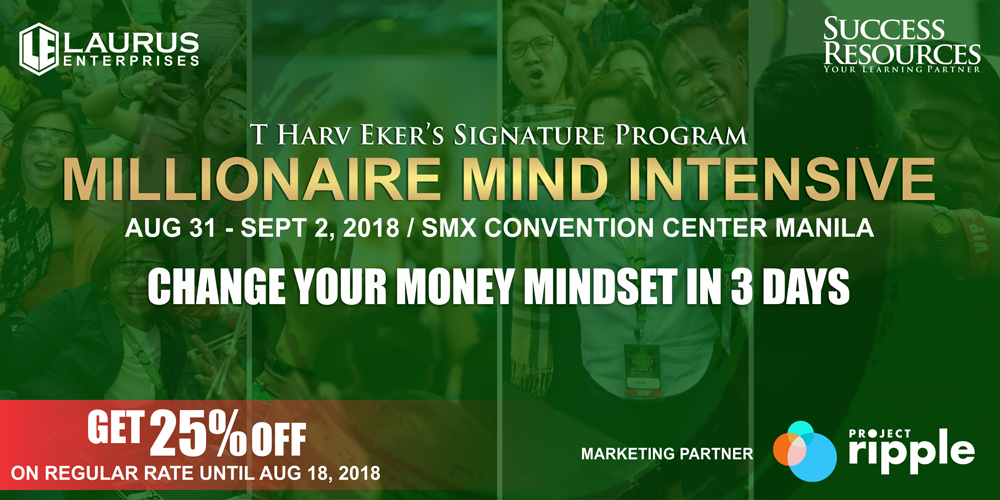 Do you want to achieve success in ALL aspects of your life naturally and automatically?
Our 3-day Millionaire Mind Intensive PH 2018 Seminar CAN help you!
Have you ever wondered why some people get rich easily while others just consistently struggle? Is it because of their education, skills, talent, work habits, or network? Or could it be because of their choice of job, business, or investments? What about luck? Were they just lucky?
The shocking truth: NONE OF THE ABOVE.
The root cause of your financial success, mediocrity, or failure, is your subconscious programming around money and wealth. Each one of us has a personal money blueprint already ingrained in the subconscious mind that will determine your financial life. Unfortunately, your current money blueprint will tend to stay with you for the rest of your life unless you identify and change it.
In general, people are lacking the financial education, the knowledge, and the skills to build wealth… especially in a "slow" economy. In order to change this, you need to get re-educated. You need to reinvent yourself for success in the current economy.
And that is exactly what our world-famous Millionaire Mind Intensive Philippines (MMIPH) will help you do. You will be given the right tools to learn how to re-program your mindset, change your financial habits and start improving your finances – regardless how small your current capital may be. This seminar has changed the lives of more than a million people from 104 different countries all around the globe. And it will change your life, too.
The organizers, Laurus Enteprises and Success Resources Pte. Ltd. of Singapore, and its sponsors, invite you to take the next step towards your financial freedom:
Create financial freedom by calculating your freedom number – that is the exact amount of money that you will need to never have to work again
Discover the three (3) simple but very powerful ways to start building passive income that will get you on the road to financial freedom quickly
Learn how to avoid that crazy boom and bust cycle that most people live in
Learn the money rules of the rich and successful and how you can apply them to accelerate your wealth starting today
Achieve success with balance and money with meaning – we will show you the big rocks formula and how it can help you get what is important to your life while creating wealth
Win the money game by doing exactly what rich people do
Master the world's easiest and most effective money management method
Make money while you sleep with massive passive income
Master money and relationships with spouses, business associates, and even your kids.
If you are truly sick and tired of not achieving what you know you are capable of and you are ready to take your life and specifically your wealth to a whole new level, register now for the 3-day MMIPH scheduled on August 31 to September 2, 2018 at SMX Convention Center in Mall of Asia, Pasay City. In this live event, you will reset your money blueprint on the spot so that financial success becomes automatic and natural for you. MMIPH will take you through groundbreaking exercises and workshops to help you understand how the money game works and how your experiences and early understanding affect your behavior as an adult. So go ahead, register now and change your financial life forever.
They say that 80% of success comes from just showing up. There are no accidents. Be at this event and experience how your life begins to skyrocket. We look forward to helping you with your fullest financial potential and we promise you, it will be one of the best moves in your life.